In Memoriam - Akbar Ghahary, Ph.D.
April 10, 1942 – February 26, 2014
Husband, Father, Grandfather, Brother, Friend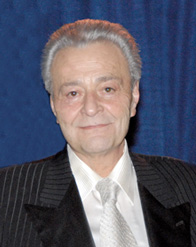 Dr. Akbar Ghahary, was an industrialist and executive in the manufacturing sector, and the Founder, CEO and Chairman of the Board of Safas Corporation, located in Clifton, New Jersey. He was also a member of the American Chemical Society and Society of Plastic Engineers, and a member of the advisory board of Iranian-American Chemists Association. Dr. Ghahary received his Masters in Mechanical Design and Engineering from Aria Mehr University while he designed and built a filament winding machine for Iran's CAS' pipeline in partnership with Sharif University (Aria Mehr) and he got his Ph.D. in Thermoset Plastics Composition and Design in affiliation with Lowell University of Massachusetts.

Dr. Ghahary had over 50 years of experience in polymer design and composites and owned many US and International patents, mostly in the polymers and advanced composites, including award-winning GRANICOAT® a sprayble solid surface material that revolutionized the composites industry and Beaushield®, a thin, acrylic solid surface sheet.

Furthermore, for the last thirty-five years, Dr. Ghahary had been a philanthropist and an active member of the Iranian-American community. His commitment to serving cultural and humanitarian projects had involved him in extensive charitable work with various cultural and community based organizations worldwide. He is the first individual who co-organized and founded a three-day international conference, IRAN FACING THE NEW CENTURY, which focused on Iran's national identity and national interests at Oxford University, UK in 2004. This one-of-a-kind conference was well-received and attended by scholars and academicians from Iran, United States, Canada and Europe. Additionally, Dr. Ghahary has been a former President of the Persian Cultural and Humanitarian Association; past Treasurer and present Vice-Chair of the Encyclopedia Iranica Foundation; and the co-founder and President of the Persian Cultural Foundation (PCF).

Dr. Ghahary had also been an active member of the Iranian-American community as a political advocate. He was the co-founder and Trustee and Treasurer of the Iranian American Political Action Committee (IAPAC). He also served as a member of the Board of Directors and Trustees for PAAIA (Public Affairs Alliance of Iranian Americans). By recognizing the absence of the Iranian-American's voice in American politics, Dr. Ghahary had supported and joined campaigns that recognized the importance of our community. Some of the note-worthy campaigns included John Kerry's Presidential campaign in 2004; Jon Corzine's campaign for New Jersey Governor in 2005; both the senatorial campaign in 2006 and Presidential campaign in 2008 of Hillary Clinton; and most importantly, Barack Obama's successful bid for the Presidency in 2008.

Dr. Ghahary is survived by his wife, Sedigheh, children, Azam, Salar, Fateme, Nahid and Masoud, his grandchildren, Darian, Brandon, Kian, Sarireh, Alireza, Amir and Saeideh and his siblings.